Not-So-White Night of Song
Saturday 23 July, 2016, 19:00

-

Sunday 24 July, 2016, 00:00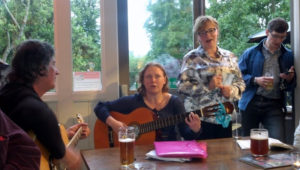 Midsummer Common,
Victoria Avenue,
Cambridge CB5 8DR
This is a very friendly, completely relaxed and totally informal party. We get together, play guitars and sing our favourite songs, eat, drink, socialise, laugh and feel happy!
After a vote on a Doodle Poll, we have been able to establish the new, most popular date – 23rd July.
The idea this year is to make ourselves comfortable on a vast green field, not far from the river and a pub (Fort St.George), so that we have a freedom of expression, do not disturb the locals, and yet can nip in to the pub for a take-away beer or two, should there be a need.
Please bring rugs, foldable chairs and your guitars!
Should it rain, the optimists among us will find shelter in the neighbouring pub, Fort St. George, and drink quietly to better weather in the hope that the heavens will have pity on us in a short while, whereas the realists may assume that the event is, sadly, cancelled… Let's keep our fingers crossed.