"A Tale of Three Sisters" (based on Chekhov) – 10 March
Sunday 10 March, 2019, 18:30

-

22:00
SOLD OUT!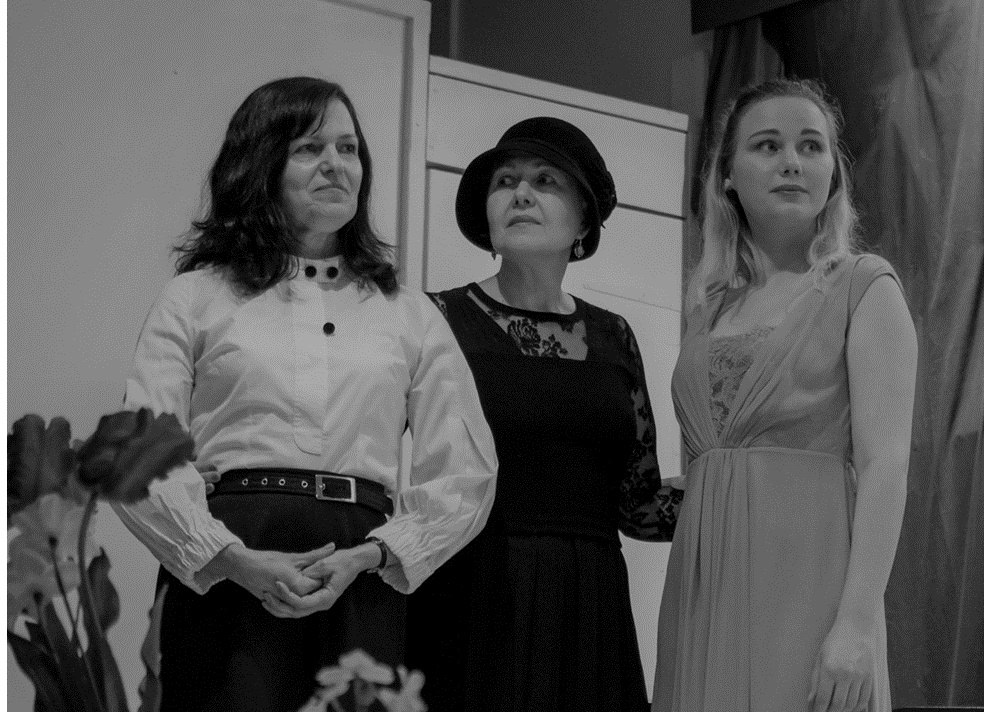 "In our performance, we explore the fable-like, mythological dimension of the famous play. This take-on seems to be suggested by the very title of the story – yet there were no previous productions focusing on the juxtaposition between the fairy tale and reality in the life of the three sisters. You have a unique opportunity to read and rethink the world-famous play in a new way!"
Doors open at 5:00pm
Performance starts at 5:30pm sharp
Production by the Russian Amateur Theatre in Cambridge "Вот такой театр".
A play in four acts, with three intervals.
Small sandwiches and snacks will be sold during the intervals, as well as hot and soft drinks.
Director: Uliana Bashtanova
Language: Russian (a detailed English synopsis will be available)
Recommended age: 15+ (please leave young children at home 😊)
Tickets: £11; CamRuSS members £9; teenagers £9
Cast: Lilya Ilgova, Elena Richer, Yulia Tingle, Denis Silyutin, Tatiana Yurasova, Sam Altshuler, Roman Mamatov, Mikhail Bashtanov, Tatiana Tuzhilina, Svetlana Baibekova
Venue: Arbury Community Centre, Campkin Rd, Arbury, Cambridge CB4 2LD
Map: Click here

There will be no tickets on the door, so please book your tickets in advance. (If you need any help with this or have any questions, please write to info@camruss.com.) 
Payment:
by direct bank transfer (BACS) to the following account:
Cambridge Russian-Speaking Society
NATWEST Bank, Sort code: 60-11-30
Account: 18120466
Ref: 10Mar + YOUR NAME (under which you are making reservation)
As soon as you have transferred the money, please send an email to: info@camruss.com, indicating your name, the title of the play, the number of seats you have paid for, and their category (adult, CamRuSS member, 16-18)
Alternatively, you can make your booking and pay in cash directly to any member of the cast, if you know them.
If you wish to pay by cheque, please write to info@camruss.com, and we shall let you know the postal address to which you can send your cheques.
With any queries please write to info@camruss.com. We look forward to seeing you at the performance!
A few responses to the premiere:
Absolutely wonderful performance, brilliant acting and staging. Superb. An absolute joy not to be missed! (B.L.)
Очень рада что пришла сегодня, замечательная постановка и игра! Молодцы! (О.D.)
Lively and atmospheric performance! All the actors were great! A truly spirited performance. (D.C.)
Молодцы вы были вчера! Прекрасный спектакль получился!!! (E.О.)
Спектакль очень динамичный и увлекательный. Намного лучше, чем во МХАТе! (O.G.)
Поздравляю!!!! Вы такие молодцы! (К.A.)
Мне дико понравился спектакль! Вы все прекрасно играли! Я растворилась в ваших образах! (N.N.)
Спасибо за вчерашний спектакль. Получила удовольствие от просмотра. Все артисты молодцы! (А.K.)